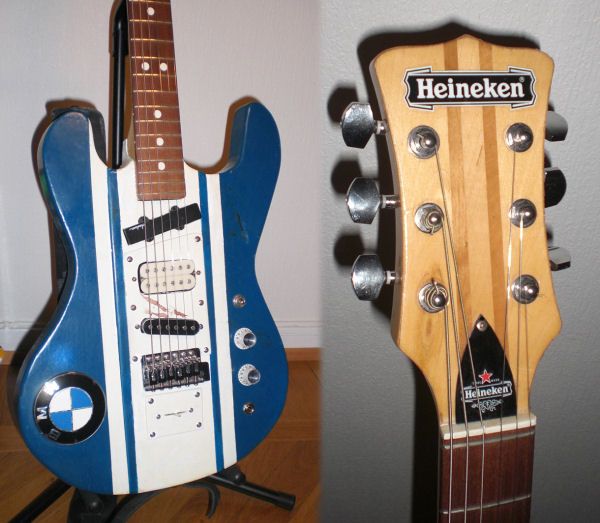 guitarz.blogspot.com
:
Guitarz
reader, Pelle tells us about his self-built guitar:
My brother's friend lives out in the woods in Sweden, and after the Erwin storm in 2005, the 100 year old oak tree on his farm blew over. Anyway, he sawed the old tree down for firewood, but kept a few large planks. Since he knew of my interest in guitars and guitar building, he gave me a piece of it after it had dried about a year.

I've always loved the shape of Mosrite guitars, so I basically drew up the body shape. Since I'm a university student I haven't got a whole lot of money, so I basically looked in my box of old guitar pieces, and what I found was a Fender singlecoil, an Epiphone humbucker, and a Jackson J-style rail bass pickup.
Since I didn't put a single penny into this project I had nothing to lose with the bass pickup in a guitar, having no idea what it would sound like, especially with the oak body, since it's not the ideal wood to make guitars out of.

I knicked the BMW logo from an abandoned car, and the Heineken logo from the beer bottle I was drinking at the time mounting the tuners!

The sound? The singlecoil sounds quite bright and crisp, the HB is very warm and very loud. The bass pickup sounds (much to my surprise) incredible!, Nice warm tones, very jazzy-sounding!

I wish I could give you an audio example, but right now I'm not in possession of a worthy recording utility! sorry.

Oh, and the neck is like a baseball bat, when I have time I probably will reshape it.

Out of my collection of 25 guitars, this one ugly duckling is my main baby!

Pelle
Thanks for that! If any other readers have an interesting guitars they'd like to share with us (preferably unique instruments rather than off-the-shelf jobbies), then please email.
G L Wilson
NB: There are a lot of blogs STEALING content and bandwidth. If you read this anywhere else but on guitarz.blogspot.com then you are reading a blog that STEALS content. Please support original bloggers!