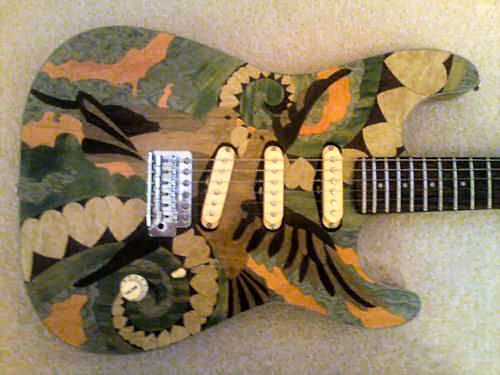 guitarz.blogspot.com
:
Apologies for the quality of this photo. I have enhanced it because the original picture from the eBay auction page looked as if it was taken through a fog of pea soup.
This Strat-type guitar
is a one-off featuring a top created using marquetry, which, if you don't know, is the craft of covering a structural carcass with pieces of veneer forming decorative patterns, designs or pictures (
Wikipedia
). It's similar to a mosaic, but in wood.
It was crafted by UK luthier
Martin Dixon
and you will see other marquetry guitars at his
website
. His guitar prices start at £950 ($1,425) so if this guitar appeals you could get a very good deal in this eBay
auction
.
G L Wilson
NB: There are a lot of blogs STEALING content and bandwidth. If you read this anywhere else but on guitarz.blogspot.com then you are reading a blog that STEALS content. Please support original bloggers!