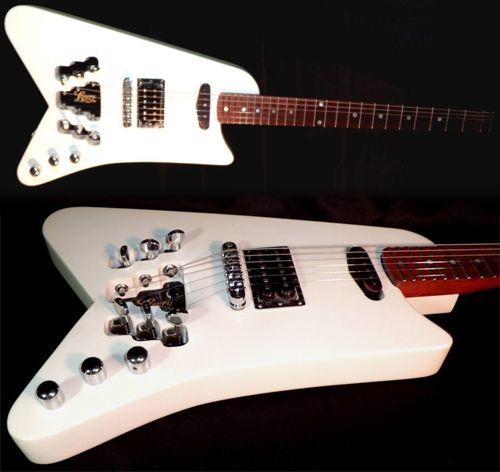 guitarz.blogspot.com
:
I like the design of this
Lowry Custom headless guitar
. It is very neat, and cunningly incorporates regular guitar machine heads in cutouts in the body's top behind the bridge. This means the guitar doesn't have the ridiculously small minimalistic body that many headless guitars suffer from. It has a nice amount of body mass - including behind the bridge - thus ensuring a good tone and sustain.
Apparently, Lowry Guitars produced hand-crafted guitars in Concord, CA from 1975 to the early 1990s.
This particular Modaire model, with styling reminiscent of the Gibson Moderne - even the model names are similar - dates to 1994 and is one of the last instruments built by this maker.
G L Wilson
NB: There are a lot of blogs STEALING content and bandwidth. If you read this anywhere else but on guitarz.blogspot.com then you are reading a blog that STEALS content. Please support original bloggers!