guitarz.blogspot.com
: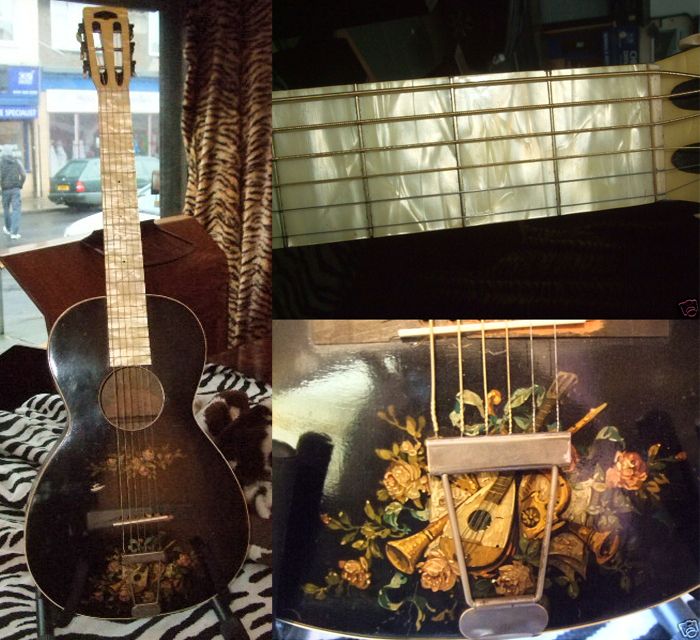 I have a bit of a soft-spot for parlour guitars. Perhaps, being mainly an electric player, I just prefer something with a smaller body. I do find large body acoustics rather ungainly; it can be a struggle having to cradle this huge thing and wrap your right arm around and over the top so as to reach the strings. In contrast, parlours I have played are not only much more conveniently-sized but are ofter very pleasant players with quite a sweet tone.
The above-pictured
Hamilton parlour guitar
is believed to be from the early 20th Century and probably made in America. It is currently for sale on eBay and the seller claims that it "plays really well". (Yeah, well s/he would say that, I suppose, but we have no-one else's word to go on. Sometimes we just have to take someone's word. It can be a gamble, I know.)
Unsurprisingly, it is fitted with light strings. On a guitar that may be perhaps 70, 80 or more years old, you don't want to fit it with heavy strings and then watch it implode in on itself.
It's hard to say what timbers have been used in its construction as the woodwork is completely finished in black cellulose. The top of the guitar has been decorated at some point with a couple of still life oil paintings which remind me of the kind of designs that my old Nana used to have on her cake and biscuit tins when I was a young 'un.
Whereas I personally could live without the kitschy oil paintings, one feature that I really like is the pearloid-backed perspex fingerboard and headstock facing. Of course, I'm reminded of Hagstrom/Goya 60s-period electrics which had the same feature.
This is another guitar I'd be seriously tempted to bid on if I wasn't trying to be careful with my finances at the moment.
G L Wilson
NB: There are a lot of blogs STEALING content and bandwidth. If you read this anywhere else but on guitarz.blogspot.com then you are reading a blog that STEALS content. Please support original bloggers!