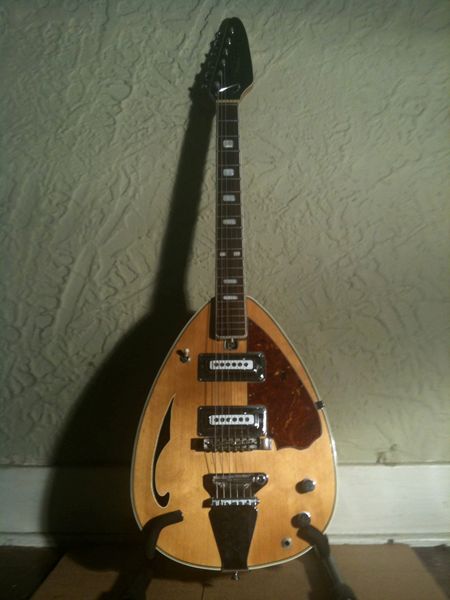 guitarz.blogspot.com
:
This may not be a Vox original, but it's still quite a beauty. Made in Japan in the 1960s, this vintage
Kawai teardrop copy
carries the
Winston
brandname. This particular example has the rarer blonde finish as opposed to the more usual sunburst.
Apologies guys (or should I say "dudes"? I think there's an unwritten rule that guitarists have to address one another as "dude". But I digress...), I was meaning to show you this guitar before the eBay auction finished.
The guitar eventually sold for $537.77 (approximately £334.40) which is probably a fair price for such an instrument. I wonder how much a genuine Vox badged instrument (many of which were made by Eko in Italy) would fetch? Probably at least double that price. But would it be a better quality instrument? I doubt it.
The auction says the guitar is labelled as "Winston Brian Jones Original", but surely Brian Jones played a solid-bodied Vox teardrop finished in white. The only player who immediately springs to mind as someone who played a hollowbodied teardrop 6-string guitar was Drooper from
The Banana Splits
!
G L Wilson
NB: There are a lot of blogs STEALING content and bandwidth. If you read this anywhere else but on guitarz.blogspot.com then you are reading a blog that STEALS content. Please support original bloggers!